Welcome
Welcome to the Last Game Wikia!
---
Everything about the romantic-comedy manga series written and illustrated by Shinobu Amano.


Last Game (ラストゲーム, Rasuto Gēmu?) is a Japanese manga written and illustrated by Shinobu Amano and published by Lala. The story mostly revolves around Naoto Yanagi, a rich, handsome and popular boy who meets Mikoto Kujou, a "gloomy", poor and silent girl who, despite that, never failed to defeat Naoto at everything he's good at, whether it may be academics or sports. The series follows them from the time they meet in elementary school until their second year in college, where most of the series takes place.


We are currently editing over 98 articles, 260 images, and you can help. Before doing that read first the policy to understand what we are trying to do around this wiki and help us to make this the best source of information of the Last Game series. All contributions to Last Game Wiki are considered to be released under the CC-BY-SA (see Wikia:Licensing for details).


Be warned that this wiki is filled with SPOILERS about the Last Game series. Read at your own risk!
About Last Game Wiki • New pages • New files • Active users • Help pages
Last Chapter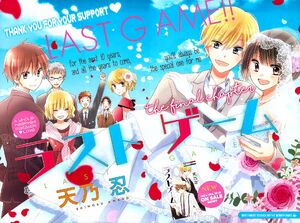 Chapter 56: "It's Game Over"
---
Spoiler alert! Contains spoilers from the last chapter of the manga. Read at your own risk!
---
The Astronomy Club members: Shiori Fujimoto, Miyabe, Yoshida, Senpai, Kei Souma and Momoka Tachibana are meeting each other after a long time at their friends, Mikoto and Naoto Yanagi's wedding. They later meet up with and congratulates both of them after they had gotten ready. Naoto almost couldn't believe he was going to marry the girl he had loved and chased ever since childhood, describing it as a "dream". They exchange rings, share their wedding kiss and Naoto proposes the idea of a new game: Mikoto has to stay with him forever if he is able to make her the happiest she's been in her life now when they're married. As so, they'll continue their life long game together.
Helping Out
We are currently housing 98 articles, and 260 files. We need YOU to help us expand and add articles to this wiki!

For starters, please sign up to create a FREE personal account, or log in if you already have one.
---
---
If you're new to Wikia, please use the above links to get started.
If you already have editing experience, and you have an article relating to Last Game to contribute, use the box below to create it:
Please keep in mind that over 50% of Wikia visitors access content via mobile platforms such as tablets and smartphones. Some custom templates may not properly show on mobile devices. To make sure everything looks great to all visitors, follow our best practices.
If you're looking to help with cleanup, you can start here:
---
Last Game Wiki Statics
Today it is: July 14, 2020
Last Game Wiki counts 98 article pages in total.
Last Game Wiki counts 260 image files in total.
Last Game Wiki counts 2,926 edits in total.
Poll
Who do you ship with Kujou Mikoto?
Do you want an anime adaptation of the manga?
Did you know...
...that the author of the Last Game manga, Shinobu Amano, also published other mangas like Katakoi Triangle, Natsu no Kakera, Wasureyuki, Watarai-kun ke no Youkai-san and Hokenshitsu no Kageyama-kun?
...that the series also has two Drama CDs, featuring voice actors/actresses?
...that the manga has several bonus chapters that haven't been translated into English?
Affiliations
Community content is available under
CC-BY-SA
unless otherwise noted.